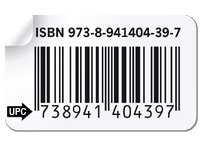 An ISBN is a 10 or 13 digit number that can usually be found on the back cover of most books above the barcode. When you enter an ISBN, include all 0's and an X if applicable. Occasionally, the ISBN is found elsewhere.
A UPC is a 12 or 13 (EAN) digit number that can be found below the barcode on your CD, DVD or video game case.
If you have multiple ISBNs or UPCs, enter them separated by a space or comma in the EagleSaver.com search bar.